Due to the explosive growth of Central Florida builders, new homes were built at a fast and furious pace. Hundreds and hundreds of new homes were built monthly between 1988 and 2006. Can you imagine what the county code inspectors had to do to keep up with that pace?
Think about the builder for a minute. Time is money. They needed to get those homes finished and sold as quickly as possible. Most times, this led to cutting corners and inferior techniques in order to get the job done. As far as water intrusion goes, the problem starts right after the stucco has been applied to the house.
When the stucco is applied to the exterior of the home, it can have a PH balance of over 80, which is about 10 times the number it should be before paint is applied to the home.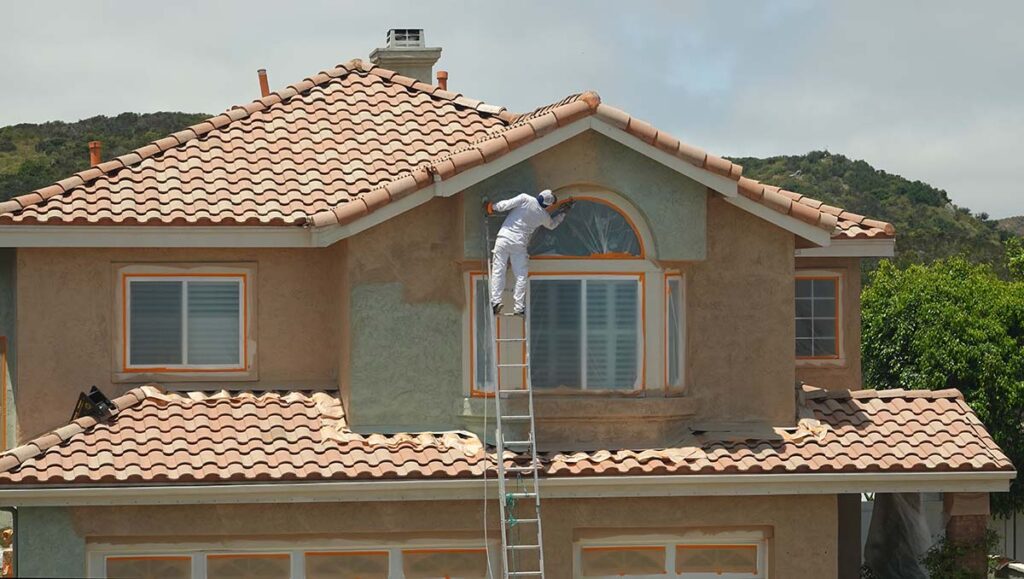 The rule of thumb is to wait 28 to 30 days before applying ANY paint to the house. The purpose of waiting that period of time is to allow the acidity and PH balance to drop to an acceptable level of around 6 to 8. Applying paint too soon changes the properties of the paint as it dries. This causes the paint to crack or peel over a period of time. Some of those cracks are so fine they are difficult to see.
The high PH number actually burns the paint and appears as blotchy areas to the trained eye. Typically, builders did not wait long enough before letting the paint contractors apply paint to the exterior of the home. And, when they did, the sub-contractors typically used inferior paint products.  It is when the paint starts to crack that rain and moisture begin to penetrate into the stucco. Of course, over time the moisture makes its way into the walls of your home.
This statement might not apply to all builders, but let's face it; in most cases, their painting sub-contractor had the lowest bid. What do you think that means? Could they have used the cheapest paint they could get away with? You decide.
In summary, there are a number of reasons why exterior residential paint doesn't perform well and doesn't prevent water intrusion in Central Florida. Cheap, thin and unbalanced stucco is one of the primary reasons. For example, applying stucco on lathing that is less than one inch thick or using an incorrect proportion of sand and cement is a recipe for water intrusion. We also talked about not giving the stucco enough time for its PH balance to reduce to the 6-8 level.
Using inferior paint is another cause for water intrusion. When you think about the elements beating down on your home day and night, you can see why a good quality paint, with high elastomeric qualities, should be used to protect your home.
Another huge contributor to water intrusion is incomplete caulking. Most professional house painters DO NOT use quality caulk. Commercial painters often neglect caulking key areas such as windows and above and below trims.
If you're looking for a professional residential and commercial painter that knows what it takes to protect the beauty and color of your home or commercial property, particularly in Orange County Florida, Orlando, Ocoee, Windermere, Isleworth, Winter Park, Winter Garden, South Lake County, Clermont, Mineola, Montverde and Four Corners, I urge you to consider Paint By Design before making a decision. I've got the best guarantees in the residential painting business – backed by unsurpassed customer service and attention to detail.
Call me at 407-415-4316 for a free – no obligation estimate. It won't cost you a thing to have me come out and give you a detailed estimate. If you'd rather I call you, please complete our contact form. To learn more about Paint By Design of Florida, visit us at www.paintbydesignfl.com. 
Oh, and while we're on the subject of estimates, you can rest assured, my bid will include proof of insurance and a detailed description of the processes and materials that are going to be used to paint your Central Florida residential home or Central Florida commercial property. No surprises and satisfaction is guaranteed!